Over time, artificial grass has become popular among homeowners across the Greater Toronto Area. Most people are looking for a drought-friendly, low-maintenance substitute for the traditional lawn. The benefits to installing artificial grass are countless one of which is having safe, resilient lawn that your pet can relieve itself on without discolouring the turf.   If you're still not convinced, here is what you need to know before familiarizing your pets to your artificial turf landscaping:
Your Pets' Doings Cannot Harm it
Many people wonder if it is okay for pets to use the bathroom on fake grass. Pets usually 'go where they know' in a natural grass lawn, and they will get used to an artificial lawn quickly. Sometimes taking care of our furry family members can be messy. But with artificial grass, you don't have to worry about your pet making a mess.
Artificial grass is equipped with porous backings that allow liquids like urine to drain easily—no matter how much your four-legged buddy marks their territory! And rest assured that your pet's activities won't cause any damage to the grass.
Artificial Grass can Endure Rough-housing
Artificial grass is resilient enough to handle your pets' roughhousing. Since pets can be tough on lawns, it is important to go to a prominent and respected supplier of artificial grass. At first glance, you might be wondering why your pup should care about our up-to-date and quality-assured grasses. We will tell you one good reason: these grasses are guaranteed to give your pup more of a "green" experience than ever before!
Our grasses are so fresh, they have been known to make some dogs, uhh, "over the moon" with excitement (and maybe even jump higher!). Rest assured that when your furry friend's paws hit this lush turf, they won't be able to stop playing. So go ahead and let them loose on our reliable turf- your pup deserves it!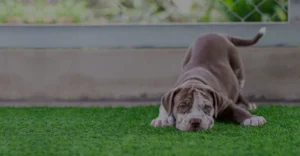 It is Simple to Clean and Deodorize
When your pet relieves itself on our artificial grass, you do not have to worry – their droppings are easily removed and quick to clean. You merely need to scoop the poop the same way you would on a traditional lawn, occasionally giving the grass a rinse.
Looking for that artificial grass look without the artificial smell? Well, you've come to the right place! OptiFILL Infill is a natural and safe solution that can help reduce urine odor.
Do artificial grass and urine odors go together like two peas in a pod? Not with OptiFILL Infill! This innovative solution allows artificial turf owners a chance to get fresh with their artificial lawns. No more ammonia build-up or stinky pee smells – just the lush grass you always wanted, even after rainfall. So don't wait – make your artificial turf smell (almost) as good as the real thing and give OptiFILL Infill a try today!
Artificial Turf is Non-Toxic with Some Exceptions
Your pets tend to fulfill their urges by licking your newly installed artificial grass. The blades on our grass are NON-TOXIC since it does not require treatment using pesticides and herbicides like natural grass. As a result, it is safe for your dogs and cats to lick them. However, ensure you always pick a synthetic grass landscape that is lead-free.
If you have decided to install artificial grass, contact Lazy Lawn, an awesome distributor of synthetic grass for quality work and products.
Use our Awesome DIY Guesstimate Tool and get an instant quote No Obligation quote in minutes.