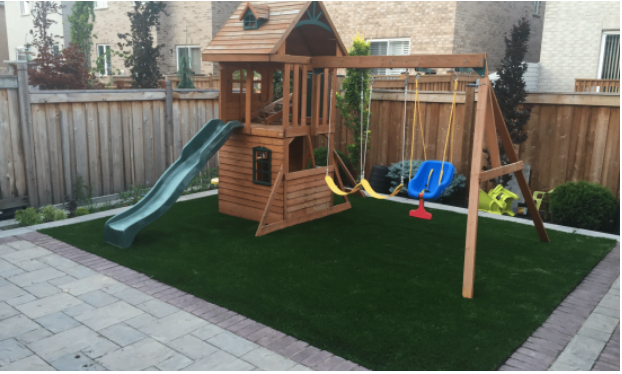 Artificial Playground Turf
Build your low maintenance playground with Lazy Lawn® soft & lush turf
Playground Turf
Playground turf is a type of artificial grass for playgrounds. It is usually made from a rubbery material, such as recycled tires, and is built to provide a soft surface for children to play on.
It is a type of synthetic grass that is often used in playgrounds. Turf is made from durable synthetic fibers that resist wear and tear, and it can also be treated with antibacterial agents to help prevent the growth of mold and mildew.
Why Choose Playground Turf?
Artificial turf is a popular choice for playgrounds for a number of reasons. Some of them are -
Synthetic turf requires only weekly maintenance, such as mowing and watering.
The fall height for kid-safe grass is intended to reduce injuries caused by play equipment.
The comfort of a safer play environment for children, with a soft grass surface that encourages them to run around and play.
Artificial turf for playground is environmentally friendly, made from recyclable components that have a good impact on the environment.
Because turf does not have insects and pests, children can spend more time playing on it.
Our Speciality
We understand that safety is a top priority when it comes to playgrounds. That's why we only use the best quality artificial turf for our playground surfaces.
Our artificial turf is made from a soft polyethylene UV-protected synthetic fiber, which means it can withstand years of exposure to the sun without fading or deteriorating. This artificial turf is also backed by a 12-year warranty, so you can rest assured that your playground will be safe and enjoyable for years to come.
Synthetic grass looks and feels like real grass, but it doesn't require much maintenance. It can also be used in a variety of other settings, such as school playgrounds, indoor parks, and some golf courses. In addition, our artificial turf can be easily cleaned and disinfected, making it ideal for public spaces.
Playground Turf Installation
Turf installation might seem like a daunting task, but it's actually pretty easy! Always make sure that you know what you're doing, and you'll be fine.
The first thing you need to do is take measurements of the area where you want to install the turf. We recommend laying down the materials (such as sand or crushed stone) prior to installing the infill and blades. Once these are in place, it will be easier to begin laying out your playground turf.
However, always be cautious when installing the artificial turf. Ensure that everyone who is working on the project has proper shoes to prevent them from stepping on nails or other dangerous objects while walking around it.
Moreover, ensure that you do not use any heavy machinery near where you are doing your job. If you do, they could damage whatever holds together each piece of synthetic grass composite material. If possible, try using hand tools like shovels/weed eaters so no one gets hurt by accidentally kicking over something important.
To sum it up, if you are looking for a low-maintenance, beautiful solution for your playground surface, artificial turf may be the perfect option for you.
Lazy Lawn® offers a comprehensive 12 year warranty on both our awesome artificial grass, and our workmanship - giving you the peace of mind your deserve.
Lazy Lawn® Artificial Grass surfaces, maintenance is achieved with a garden hose, leaf blower or a plastic rake!
Do Your Own Estimate
Instant Quotes in 45 seconds